Main Activities
Prayer music by the 500th performer in "The Bonds Made of a Thousand Tones" Project
Mar 9 (Thur), 2017, 14:00
In front of "Kiseki no Ipponmatsu (a pine tree of a miracle)" in Rikuzentakata City, Iwate Prefecture. 
Organized by:  General Foundation "Classic for Japan" 
Cooperated by: Kodama no Kai (Circle of Wood Spirit), Jiji Press Ltd.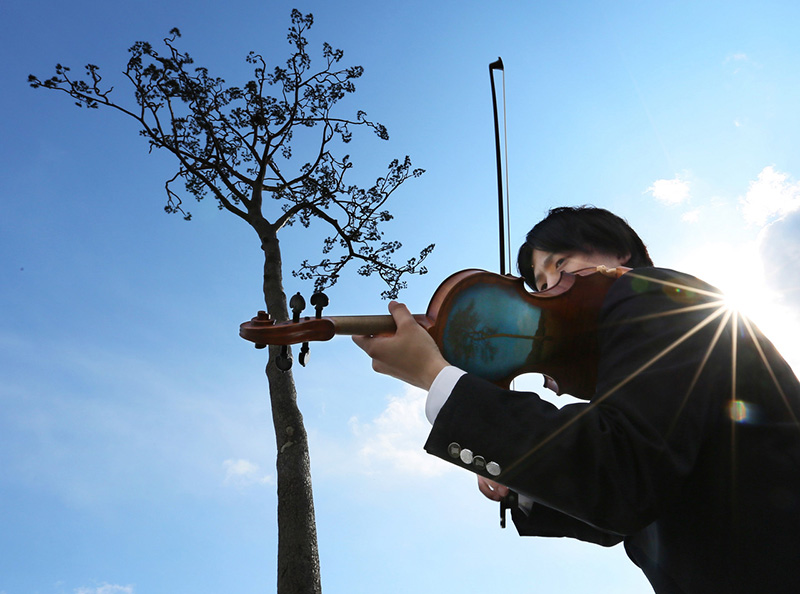 With a hope that one thousand performers will hand over the prayer by playing the TSUNAMI Violin in relay, "The Bonds Made of One Thousand Tones" Project started on March the 11th, 2012. 
Mr. Gitlis was the first player of the TSUNAMI Violin, who played it for prayer at the memorial service in Rikuzentakata City. On Mar 9th, 2017, just five years after Mr. Gitlis, the 500th player performed for prayer in front of "Kiseki no Ipponmatsu." 
The 500th player was a young violinist from Iwate Prefecture, named Mr. Takashi Kudo. Snow stopped just before his performance. With white clouds in the blue sky, Bach's Violin Sonata No. 1 Siciliano serenely touched people's hearts. 
he pile of driftwood where we looked for materials of the violins was just across the Kesen  River from the Ipponmatsu. The "sound post" of the violin, which is a very important part of a violin, was a present from Ipponmatsu. The place was the very homeland of TSUNAMI Violins, and we could make the 500th music report to the Ipponmatsu. 
We can see many dump trucks coming and going in Rikuzentakata now. They are busy raising land. We would like to refresh our minds at this chance and to sit down and continue the music relay.